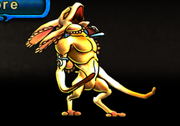 Vicious ferals known for their agility and long reach. They are quick to react to enemy attacks, and will burrow underground in order to close in for the kill.
Both this feral's dive into the ground and re-emergence cause minor damage to adjacent foes. Its attacks vary between one-two lashes, an aerial spit attack, and a retreating leap.
It is prone to blocking normal attacks.
Dropped Items
Edit