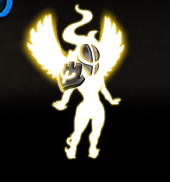 Angelic apparitions that support all nearby angels by increasing their defensive attributes. They are extremely resistant to physical attacks, and can cast lightning spells from a great distance.
Slings Static-inflicting balls at you from range, and will grab you and hold you helpless in melee.
Nearby Angels are reinforced with a barrier that absorbs damage, knockback, and status effects. Their souls do not linger near Alagathian Templars, so they cannot be ressurected.
Dropped Items
Edit